Does your teen need
help in one of these areas?
They make hasty, poorly-considered decisions and need to have better judgment.
They're being bullied at school – or they're the one doing the bullying. They don't get enough exercise or need to lose weight.
They have low self-esteem and seem to be down all the time. They give up when things get difficult and fail to meet their goals.
Raising a teenager requires persistence & patience
Luckily there is a comprehensive solution…
It can test your sanity even at the best of times. Yet, you want the best for your teenager. You want them to have the tools they need to succeed now and later in life – and you'd like that to happen without having to pull out all your hair in the process. Getting them to do anything you want them to do can feel utterly impossible, and you're not sure where to start.
Studying martial arts helps kids learn how to overcome their problems and learn important lessons – the kind of lessons that will follow them to your home, to the classroom, and for the rest of their lives.
your teen will grow with every class!
Teenagers who study martial arts learn the benefits of self-control and discipline with every lesson. Our classes emphasize core values like discipline, respect, and persistence. Students learn that the way they treat others – in and out of the dojo – reflects on them as people and affects their ability to achieve their goals.
All around fantastic! Peter is amazing with the students and the rest of the staff are wonderful. My two children have been there for over a year and really love it!
Jamie Mosscrop
PPKC team has had a great positive impact to our son. They have been enriching and empowering him at every level. Not only he has been learning karate but also getting skills on leadership, team work, accpuntability, caring and many more. We are blessed and grateful to have such an amazing support in our community. Thank you PPKC.
Deniz Temel
this is the best karte ever i have been doing it for 9 years it helps with school and hockey he will help you with anything
you will build confedens and you will be the verso of your self
Siena Kolpin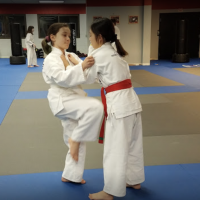 Thank Goodness I heard about PPKC when I moved to Acton! The Pippos family is a great support for the Acton community in so many ways. I first knew of the Center for their after school program, which I'd say is the BEST in town. We're very unhappy with the AB Community Education Extended Care program and fortunately PPKC had an opening and we're able to move our daughter to their afterschool program starting in January on 2020 and that was the best decision we could have made. The environment is so bright and so positive, our daughter was much happier, with the plus that now she was also doing Karate. Sensei Peter is a great leader, everybody loves him. After the pandemic, PPKC quickly started offering online lessons which was great for everyone in the middle of the lockdown and with so much anxiety for what was going on. Nicole Pippos even organized a few time online activities through zoom, like Bingo or treasure hunts. When school started in the fall of 2020, they started the Empower Academy for kids taking online classes which has been a lifesaver for working parents and has offered some sense of normalcy to our children. I cannot express my gratitude for the PPKC family for the positive impact they have in our life. We love you!
Rosa Moscarella
My 5 and 8 year olds have been taking classes for almost 2 months, and love it here so much. The instructors are incredibly kind and caring while also teaching them discipline and how to follow directions. They are great with making every class a blend of having fun and learning karate.
Lindsay Yanklowski
ACCESS OUR SCHEDULE
& EXCLUSIVE WEB SPECIAL
Secure your spot and get started today with our EXCLUSIVE offer!
By opting into the web form above you are providing consent for Peter Pippos Karate Center to send you periodic text messages. Standard rates may apply. You can reply HELP at anytime or learn more. You may opt-out anytime by replying STOP.
ACCESS OUR SCHEDULE
& EXCLUSIVE WEB SPECIAL
Secure your spot and get started today with our EXCLUSIVE offer!
Get Started Today