Contact Us
To Learn More!
Secure your spot and get started today with our EXCLUSIVE offer!
By opting into the web form above you are providing consent for Peter Pippos Karate Center to send you periodic text messages. Standard rates may apply. You can reply HELP at anytime or learn more. You may opt-out anytime by replying STOP.
DISCIPLINE & CONFIDENCE!
Build character and leadership qualities
Martial arts classes benefit growing children far beyond the dojo and in many real-world scenarios. Our structured classes are meant to help develop coordination, physical fitness, mental strength, as well as gain valuable social skills. Through positive reinforcement, we can bring out the best in your children to help them succeed in life.
VIEW OUR KID'S MARTIAL ARTS PROGRAM
PPKC team has had a great positive impact to our son. They have been enriching and empowering him at every level. Not only he has been learning karate but also getting skills on leadership, team work, accpuntability, caring and many more. We are blessed and grateful to have such an amazing support in our community. Thank you PPKC.
Deniz Temel
Great Karate Center! Sensei's classes are fun and educational. Both my girls attend classes here twice a week. Its not just about the Karate, Sensei teaches them about life lessons and responsibility. He makes the class fun and interesting. If there is time at the end he will always try and finish with some musical game of some sort which the kids love. Been coming over a year now and can't wait till my girls reach Black belt. Sensei always has a smile on his face and will go out of his way to say hello to all parents.
Samir P.
PPKC not only teaches karate but builds leadership, character, and respect. The PPKC staff are more than teachers, they are role models, mentors, motivators, and family! We are better people being part of their program.
Susan Welt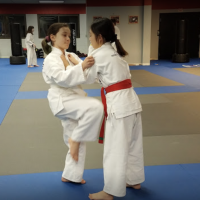 Thank Goodness I heard about PPKC when I moved to Acton! The Pippos family is a great support for the Acton community in so many ways. I first knew of the Center for their after school program, which I'd say is the BEST in town. We're very unhappy with the AB Community Education Extended Care program and fortunately PPKC had an opening and we're able to move our daughter to their afterschool program starting in January on 2020 and that was the best decision we could have made. The environment is so bright and so positive, our daughter was much happier, with the plus that now she was also doing Karate. Sensei Peter is a great leader, everybody loves him. After the pandemic, PPKC quickly started offering online lessons which was great for everyone in the middle of the lockdown and with so much anxiety for what was going on. Nicole Pippos even organized a few time online activities through zoom, like Bingo or treasure hunts. When school started in the fall of 2020, they started the Empower Academy for kids taking online classes which has been a lifesaver for working parents and has offered some sense of normalcy to our children. I cannot express my gratitude for the PPKC family for the positive impact they have in our life. We love you!
Rosa Moscarella
Sensei Peter Pippos is a special person--his energy and positivity are infectious. This place is full of heart and a great place for physical and emotional growth. It is family run, and clear they are all passionate about their students. It has really helped keep some balance in our lives during the pandemic.
Jasmin Keramaty
All around fantastic! Peter is amazing with the students and the rest of the staff are wonderful. My two children have been there for over a year and really love it!
Jamie Mosscrop
Love Peter Pippos karate center ,Mr.Peter has such positive energy,all the instructors are excellent and are obviously dedicated to teaching karate well.I also like their focus on teaching kids about kindness and standing up for themselves against bullies without harming anyone .
Dhanashree Sathe
My kid loves it. They know how to motivate the students.
Ade Saez
PPKC is a very very special place and Sensei Peter is easily one of the best martial arts teacher. He is great guy and words are not enough to describe him, When you talk to Peter you will notice that you are talking to a very intelligent person with exceptionally high positive energy levels. His discipline, dedication, professionalism towards his students is incredible. Together Nicole, Peter and Lukas are a great team, super friendly and are highly passionate about all the students. They remember the name of each kid, their strength, weakness and they get the best out of all kids. Each and every class they conduct is full of energy, high quality learning and a memorable experience. In addition to Karate, Peter and Lukas also gives them real life lessons around discipline, hardwork, honesty, integrity and much more. They always raise their bar higher and higher. During these lockdowns, PPKC quickly moved to online lessons with same levels of intensity and quality and now in-person learning is back again with all the necessary safety measures and guidelines. All of these transition was very well managed. Thanks PPKC for everything you do for the kids.
Deepak Kochar
Fantastic martial arts school. Peter has an amazing ability to teach children. Peter and Nicole have created a great community! This is a great martial arts family center.
Bridgete Welsh
IMPROVE FLEXIBILITY, BALANCE, AND STRENGTH
Get fit while learning martial arts
Learn self-defense, build confidence, and get in the best shape of your lives! Martial arts has tons of physical, mental and social benefits, suitable for anyone and everyone. Become part of something positive and learn new skills from trained martial arts professionals. It's easy to get started—Enroll in martial arts classes today!
View Our Adult Martial Arts Program
Request Information
ACCESS OUR SCHEDULE & SPECIAL WEB OFFER!
Get started today with our EXCLUSIVE offer!
Request more information today to find out how you or your child can start training!
Get Started Today